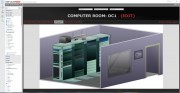 Tier44 announces EM/8. Rapidly Deployed, Low Cost, Data Center Monitoring and Management of IT and Facility Components, directly integrated with ServiceNow.
Santa Clara, CA, April 16, 2015 (Newswire.com) - Tier44 Technologies, Inc. the leading Holistic Data Center Management solutions provider, today announced the general availability of EM/8, its next generation monitoring and management solution for data centers. Integrated with ServiceNow, EM/8 will leverage the asset and configuration information to monitor any IT and facility component in the data center. Management extensions will allow automatically generating trouble tickets and turning on and off equipment directly from within ServiceNow. While EM/8 is also available as a standalone system, a fully integrated version with ServiceNow or an integration with other inventory management systems will benefit and enhance a rapid seamless deployment, synchronization and a single point of maintenance. Key features include:
Integrated GUI - EM/8 presents information right within the ServiceNow user interface. For example, a simple click on a ServiceNow asset instantly displays the relevant live metrics, including but not limited to power, utilization and temperature.
Asset Synchronization - EM/8 automatically synchronizes with ServiceNow every minute, avoiding the need for manual entry or updating. Extensions to the configuration tables have been made to capture additional monitoring and management details. This allows configuration changes within a single environment without the need of further customization or verification within EM/8.
Holistic Power Management – EM/8 provides the ability to turn on and off equipment directly from the monitoring view and also from within ServiceNow. Turning on/off equipment can be done manually, or as part of an application, spanning multiple pieces or completely automated based on application load or a schedule/reservation. This can include virtual and/or physical servers, network equipment and storage devices plus associated cooling equipment as needed.
Fully automated runbooks can be setup to dynamically shift applications across multiple locations and adjust server capacity based on application load automatically. The results include better manageability, guaranteed fail over and power savings in excess of 50%.
Smartphone App – By simply scanning the asset tag barcode of a particular device, users can immediately see its live metrics on the smartphone or tablet. With management features enabled, the user can also turn on/off equipment or applications and even shift applications from one data center to another
Pricing and Availability - Pricing follows a simple device count model and provides one year of historical data storage. Tier44 currently offers an introductory starter package at its volume discount price of $6,000 per year for minute-by-minute monitoring of the first 500 devices. Tier44 EM/8 with ServiceNow integration is available April 20, 2015
About Tier44 Technologies
Tier44 Technologies is a leading developer of Data Center Management software for large enterprises, government agencies, and managed service providers. Tier44's solutions provide visibility, intelligence, analytics and automation to help CIOs, IT directors, and facilities managers to dynamically optimize capacity, and manage service levels and power consumption within and across data centers. Headquartered in Santa Clara, CA, the company is privately held.
Tier44, PAR4, EM/8 and Holistic Power Management are trademarks of Tier44 Technologies, Inc. All other product names and references remain the trademarks or registered trademarks of their respective owners.

Contacts
Tier44 Technologies, Inc.
Ron Santa Elena
Email: pr@tier44.com
http://www.tier44.com
Share: